Finally!! Tapos na ang aking "Transfer of Ownership" Serye
Eto exactly yung mga ginawa ko.
Disclaimer: This steps may not applicable for everyone.
Documents Needed:
-Orig OR & CR
-Orig and Notarized Deed of Sale
-Photocopy ng 2 Non Expired ID's ng 1st owner w/ 3 specimen signature
-Photocopy ng 2 Non Expired ID's mo w/ 3 specimen signature
-HPG Clearance
-Confirmation (only if malayo ang mother file mo)
-Insurance under your name (pero kung updated rehistro mo no need na)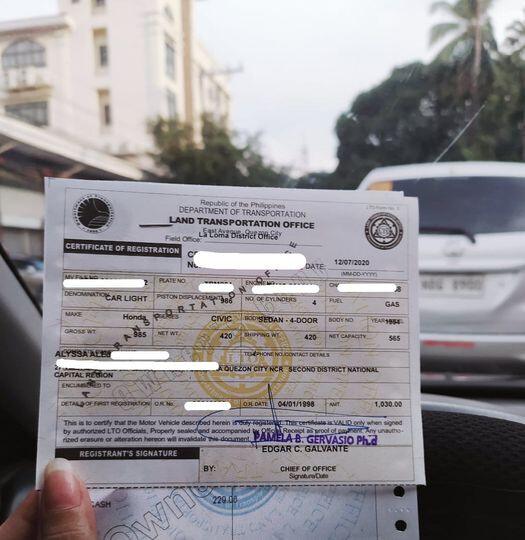 1st Step:
Pumunta ko ng LTO 20TH ave. para sana kumuha ng confirmation kaso tinanggihan ako. (Kaya wag kayo pupunta dun). Lumipat ako sa LTO La loma para mag request ng "Electronic Confirmation" dahil sa tarlac pa yung mother file ko. Take note di nyo makukuha yung confirmation nyo in same day. In my case after 2 days tinexx ako ng LTO pwede na daw i pick up yung confirmation ko. (Walang bayad to)
2nd Step:
Pumunta ko sa HPG La loma malapit lang din sa LTO La loma. Nagpasa ng mga documents (Xerox lang kukunin nila, wag ibigay yung orig) binigyan ako ng order of payment na babayaran sa Landbank P 300.00) pagkabayad ko bumalik ako ulit sa HPG para ma stencil na yung kotse ko. After 3 days pa makukuha yung HPG clearance, so babalikan mo ulit.
3rd Step:
After ko makuha yung HPG Clearance ko dumeretso agad ako ng LTO La loma. Pinasa ko lahat ng Original Documents ko (orig na po kukukunin nila). Hindi nila tinanggap yung ID ng 1st Owner. Kaya pinakuha ako ng "Affidavit of Warranty" which is dun din pwede ipagawa sa tabi ng LTO

. Nagpagawa ako ng Warranty (P 250.00) kasi yung ID ng 1st owner ay matagal na daw at ang pangit ng pagka xerox, nognog yung picture dimo na ma klaro kung tao pa ba yung nasa ID

. After nyan bibigyan ka ng MVIR Form, dahil i stencil ulit yung engine mo.
4th Step:
Pinapasok nako sa loob para ipasa sa window 6 ang mga documents ko. Mabilis lang 30 mins lang tapos nako. May babayaran ka lang na (P 230.00) for transfer of ownership. Then release na ng OR at CR na naka name sakin



Total: 780.00 (nag abot lang ako ng 100 sa nag stencil sa HPG + mga pa xerox ng mga documents)
FYI: AGAHAN NYO LAGI, AT HABAAN ANG PASENSYA


Read more car registration guide.
Information in this post comes from the facebook group that we manage https://www.facebook.com/groups/LandTransportationOffice/posts/431839404509611/