Ptpa admin,
Thank you!
UPDATE ko lng po, DAGDAG KAALAMAN!
another actual personal experienced ko sa EMISSION TEST, NOTARY STAMP MCLE COMPLIANCE NUMBER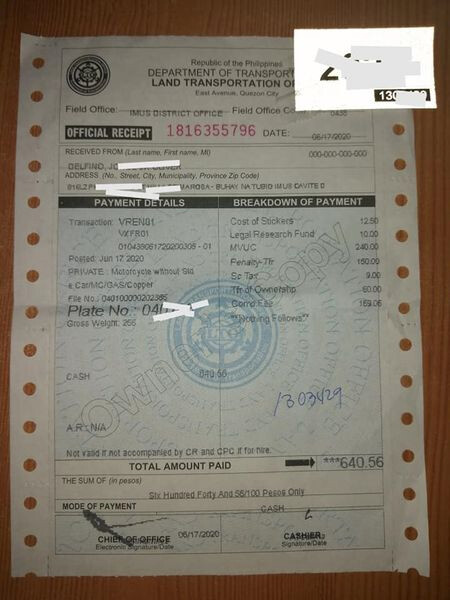 On DOS from attorney at law.
1.) Advice ko lng po maaga tlaga kyo sa emission testing super early ng cut off nila, 7:00am pa lng cut off na as in closed na, super sa pila ng motor. Kahit saan siguro area ng emission sa bansa, marami ang pila. 500php binayad ko. Magpalista ng advance pwede balik na lng if kinabukasan, para sa comfort ng waiting mo.
2.) Also Please NOTE : Upon EMISSION PLATE picture taking, Sa mga wala pang plaka ang motor di na pwede ang temporary plate number, gaya nito

040103
Dapat MV-FILE # talaga nasa baba ang sample. 250 din binayad dhil pinapalitan sakin plaka ko, meron na sila sariling taga gawa, ewan lng sa iba,


memo daw ng LTO sa mga EMISSION testing yan. Kaya need to follow.
2.) Now on NOTARY STAMP, sa inyong DOS, dapat nka indicate sa stamp ang MCLE COMPLIANCE NUMBER, nasa baba din po sample. Bad luck uli sakin ksi nakita pa ng inspector na wala pala MCLE # yung aking NOTARY STAMP, Kaya pinapunta pako sa Dasmariñas Sumisho financing office ksi sa kanila galing notary ko, unlucky ksi nka work from home tao nila, wala me napala.



3.) Kaya NO CHOICE balik me LTO Imus, baka sakali, nakiusap na lng me kung pwede to follow na lng yung MCLE # ko, as waiting pa me sa reply ni Sumisho financing,dhil sabi ko ma expire ang HPG clearance ko in 7days, pag hindi ko na process today, bukas may work na me, di ko na maasikaso.
4.) Good news,


kasi pumayag si Chief Inspector ng LTO Imus, na to follow na lng MCLE # at pinaprocess na ang aking Change Ownership sabay ng renewal ng rehistro under my name na, nag bayad me ng 641php,
5.) Now nakuha KO na OR ng motor under my name na w/ sticker narin, then si CR, on hold pa ang release ksi need ko pa makuha yung MCLE COMPLIANCE #, atleast ok na, balik na lng for exchange ng hinahanap nila,



MARAMING THANK YOU PO
kay GOD ALMIGHTY ksi nakaraos din me sa paglalakad ng Change Ownership ng motor ko.
SAKRIPISYONG TOTOO


3-days off ko nagamit ko sa process sa HPG & LTO



Break down ng EXPENSES PERSONAL NA LAKAD.
1.) HPG CLEARANCE =300
2.) INSURANCE =500
3.) EMISSION =500
4.) CHANGE PLATE =250
4.) LTO = 641
5.) MISCELLANEOUS = 300approx
Atleast may idea na sa mga wala pa




SANA MAKATULONG MGA PAPS









Read more car registration guide.
Information in this post comes from the facebook group that we manage https://www.facebook.com/groups/LandTransportationOffice/posts/302223880804498/