CHANGE OF OWNERSHIP
DONE! (07.16.20) MOTOR
SHARE KO LANG PO MGA STEPS AYON SA EXPERIENCE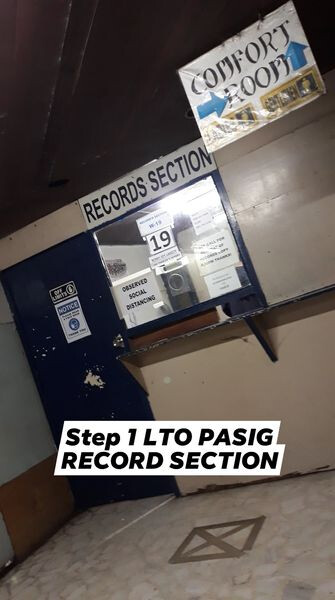 ITO YUNG PAGKAKASUNOD-SUNOD

. LTO - PROCESS CTC ( CERTIFIED TRUE COPY ) PAG NCR ANG MOTHER FILE MO / ( CONFIRMATION ) KAPAG PROVINCE
MOTHER FILE MO

HPG ( HIGHWAY PATROL GROUP ) CLEARANCE


.BACK TO LTO - FOR CHANGE OWNERSHIP + REHISTRO ( KUNG ISASABAY MO )
STEPS












MGA LISTAHAN NG REQUIREMENTS

ORIG CR


ORIG OR


CTC OR CONFIRMATION


ORIG DEED OF SALES (NOTARIZED)

2 valid ID'S of first owner bago ka na may 3 signatures


2 valid ID'S of you new owner na may 3 signatures


Stencil from LTO


Emission Test (kung paparehistro kanadin)- kahit sa old owner name thats fine


HPG CLEARANCE


INSURANCE ( sayo naka name )
PAAANO KUNIN










1
UNAHIN MO TO DAHIL MEDYO MATAGAL TO

PAANO at SAAN KUKUHA

STEP











STEP

Kaibahan ng CTC sa CONFIRMATION


Ang CTC (Certified True Copy) ay kailangan mo at ang iyong kukunin kung ang motherfile mo ay sa loob ng NCR at hindi mo ito kailangan kung provincial ang motherfile mo
VS

Ang CONFIRMATION ay kailangan mo at ang iyong kukunin kung ang mother file mo ay provincial ( hindi mo ito kailangan kung NCR ang mother file mo )

Ang ibig sabihin ng MOTHERFILE ay kung saan original nakaregistro MC mo na makikita sa CR
FOR CTC
-punta ka sa LTO kung saan nakarehistro mc mo
FOR CONFIRMATION
-punta ka sa pinakamalapit na LTO office sayo

NOTE: HINDI KA DAPAT TANGIHAN KASE LAHAT NG LTO MAY RECORD SA FILES
MAY MGA CASES KASE GAYA KO NA SINABIHAN NUNG UNA NA WALA SILANG RECORD PUMALAG LANG AKO AT SABI KO HINDI PWEDENG WALA KASE LAHAT DAPAT MERON UNLESS AYAW NILA MAGTRABAHO AT AYON PINAPASOK AKO
-punta ka sa Record Office
-sabihin mo kukuha ka Certified true copy or Confirmation
-Submit requirements

Orig or


Orig Cr


Deed of sale ( Notarized )


2 valid id ni old owner with 3 signature


2 valid id mo new owner with 3 signature
-pagtapos mo magsubmit bibigyan ka ng form ng stencil tapos papapuntahin ka sa window na may magaassist sayo at gagawa ng stencil sa motor mo .

Stencil po kukunin yung ENGINE NUMBER AT CHASSIS NUMBER ng mc mo
Libre lang po ito
-pagtapos non babalik ka sa Record office
wait ka ng call or text nila kung may confimation na or ctc kana
or kuhain mo number nila ikaw mag follow up
(saken 3days yung confirmation)
-babalik sayo mga orig papers mo magkakasama
-Bibigyan ka ng Confirmation form katunayan na ngprocess ka
-Then makukuha mo confirmation pag meron na update

Di mo pa need insurance dito

then pwede mong i wait ang result bago ka magproceed sa next step
or habang nagwawait ka pwede rin
STEP
STEP
-Kuha ka ng insurance make sure nakapangalan na sayo
-CEBUANNA pwede kapag may plate no. kana
-Kapag wala kapa plate number Marami dyan nakukuhaan insurrance
meron din sa tabi ng HPG mismo
INSURANCE REQUIREMENTS

Xerox or + Cr


xerox deed of sale


xerox valid id ni previous owner with signature minsan hinahanap


Xerox valid id mo para dun nila ibase yung insurance
-Make sure nakapangalan sayo ito
-After makakuha ng insurance Mag pa schedule ka ng emission test
Emission test requirements

Xerox or+cr
-naka pangalan talaga sa previous owner to its ok
-Pag may schedule kana
-pwede kana mag step 3 Basta pasok sya sa loob ng 7working days
after mo mag HPG

Saken ginawa ko habang nakapila ako sa HPG naglista nadin ako sa listahan doon sa katabing emission testing center ng HPG
kase pag nakalista ka at pasok sa 10person cutoff , kinabukasan ng 6am pwede kana agad magpa test basta make sure na yung nilistahan mo galing sa testing center . Saaken kase naglista ako so expected kona may sched na ko kinabukasan pero iba pala yung nilistahan ko hindi galing sakanila , kaya di ako nasama buti at maaga ako at wala yung ibang nakalista
kaya nakakuha padin ako

Pansin ko lang PRINAPRIORITIZE NILA KUMUKUHA NG INSURANCE SAKANILA Ask nyo din baka unahin kayo pag sakanila nagpainsurance

PWEDENG i HULI ANG EMISSION TEST AT INSURANCE DAHIL HINDI NAMAN ITO KAILANGAN SA HPG CLEARANCE PERO KAYA NILA TAYO INUUBLIGA DAHIL 7 DAYS LANG ANG HPG CLEARANCE
AT KAPAG NAUNA ANG CLEARANCE SA MGA ITO MAAARING MA EXPIRE NA ANG HPG MO AT DI KAPA TAPOS SA EMISSION OR INSURANCE UULIT KA LANG SA BAYAD AT PAGOD SAYANG LANG


Ang Emission test at Insurance ay para sa rehistro ng motor+
STEP












STEP
HPG CLEARANCE 20th avenue cubao (google map nyo nalang po )
isuggest dito kase maayos at maasikaso
pwede din sa iba pero pagkakarinig ko maarte sa requirements
Punta ka as early as 3am kase may cutoff 40-50 persons
-first come first serve-pila na then 6am magstart sila magbigay number
-submit requirements for verification
All Xerox only

Or + Cr


Deed of sale


2 valid ids ni previous owner with 3 signature (each)


2 valid ids mo new owner with 3 signature ( each )
pag tinanong ka kung may ctc or confirmation na sabihin mo on process na po papagalitan ka konti pero gagawan ka padin clearance
kase nga baka ma expire lang HPG mo wala kapang ctc or confirmation
-After ng requirements verification ibabalik sayo at bibigyan ka ng landbank Receipt
(300php)
-punta kana agad sa Landbank ( cubao ) malapit sa Yale road
aurora boulevard Google map
-8:30am sila magbubukas
-after mo mabayaran pa xerox mo agad yung receipt
-balik kana sa HPG
-Ipakita mo resibo then bibigyan ka Form
-fillupan mo lang form after non submit requirements
together with xerox and orig ng landbank payment
-wait ka ma stencil motor mo (Hpg stencil) Wala ng bayad to
-after stencil picture taking
-wait and then release na ( the same day)
PAGMAY HPG KANA AT EMISSION TEST AND INSURANCE GO NA SA STEP 4
STEP













STEP
-Punta ka LTO kung san ka nagrequest ng ctc or confirmation
-submit requirements
lahat orig

OR + CR


deed of sale


2 valid ids previous owner with 3 signature each( xerox)


2 valid ids mo new owner with 3 signature each( xerox)


CTC OR CONFIRMATION


INSURANCE ORIG COPY (sayo yung owners copy)


EMISSION TEST (kung rehistro )


HPG CLEARANCE + stencil + Landbank paymeny (magkakasama yan binibigay)

LTO STENCIL
-wait tawaging sa window then bayad then release
CONGRATULATIONS
!!!
Ikaw na ang may ari ng motor mo






naway makatulong saating mga kapwa riders
LAMANG ANG MAY ALAM
mga ginastos ko po
480 PHP - Insurance
300 PHP - HPG
380 PHP - Emissiom Test
740 PHP -Rehistro + change ownership
1900 PHP = Sum
WAG NA MAGPAFIXER TIYAGA LANG KACLEARANCE
Read more car registration guide.
Information in this post comes from the facebook group that we manage https://www.facebook.com/groups/LandTransportationOffice/posts/322029488823937/