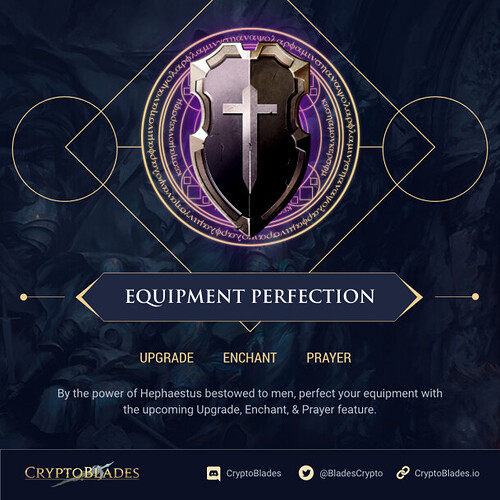 Levitate - Hunk Wizard — Today at 9:27 PM
@everyone
Today we have more details on Founders Shield features, as well as future upgrades for your NFTs!
Since the release of our Founders shields we have been working around the clock after all the feedback we have received. Thank you all for your amazing input.
Let's get started.
Tab 1: Upgrade
Players can complete quests. Every Time they complete these, they can upgrade and pay Dust (these can be obtained by salvaging equipment). Quests will change at every level. The requirement of dust will increase every time you level up the shield.

Tier Upgrade: Once the upgrade has reached level 10, it can breakthrough at the cost of SKILL. Once successful, it becomes a Tier II shield with bonus stats. This will change the look of the shield to a more epic looking one. Following upgrades will continue at level 20 to boost the tier up (Tier III).
Tab 2: Enchant
Players can spend dust to change/roll the stats of the shield. These of course will continue to be our core stats. (Strength:cb_fire: , Dex :cb_earth: , Int :cb_water: , Cha:cb_lightning: ).
Tab 3: Prayer
This specifically will be for the Limited Edition Templar's Will PvP Shield!

Players can spend "Souls" (These are able to be obtained with a chance when defeating a player in PVP or naturally they can be bought in the Skill Shop). These will give you a chance to level up the quality of the shield from 3 stars to 4 stars. This is completely RNG. However after attempting a specific amount of prayers it will guarantee a level up.
Additional information
We will be adding the option to reskin your Shields. These will also expand to being able to change the look of your Swords and Characters.

With the upcoming changes and upgradable features to the shields we are also very happy to announce that we will be launching a sale next week for a new set of shields. Stay tuned for more information on this with one of the upcoming announcements.
That being said. I wish you all a very wonderful Sunday and stay tuned for more upcoming updates!


Join Cryptoblades discord channel